Happy Lunar New Year, everyone!
This year is the year of the sheep (羊 – yáng) – which is my birth year; 我属羊 – and google are celebrating with this super cute doodle today: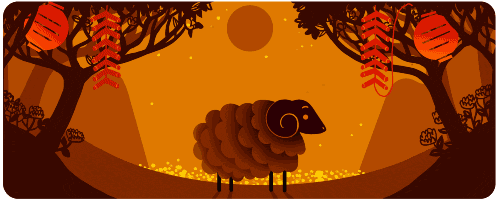 I'm not really doing anything to celebrate today (honestly, I kind of forgot) – but are you? Planning to 放鞭炮 or maybe eat some 饺子? Have you got some 春联 or 窗花? Or are you doing/have you already done something completely different?
Regardless of what you're doing (or not), I hope you're all having a fun time! 祝你万事如意!
Glossary
大吉 – da4ji2 – very lucky; highly auspicious
属 – shu3 – to be born in the year of 
放鞭炮 – fang4 bian1pao4 – to set off fire crackers
饺子 – jiao3zi – dumplings
春联 – chun1lian2 – Spring Festival Couplets 
窗花 – chuang1hua1 – paper-cut for window decoration
祝你万事如意 – zhu4ni3 wan4 shi4 ru2yi4 – I hope all your wishes come true