Hey there, guys, gals and non-binary pals (and everyone else, ofc)! The last time I posted was a while back now – all about the amazing weekend I had at Women in Language – and I've spent the time since trying to work out exactly what I want to do with the blog, as well as, obviously, spending time on my languages.
I might not have worked out the blog thing quite yet, but I have managed to get myself all involved in a new language challenge! And it starts tonight at midnight, so it's time to get cracking!
What is the #40h7dLC?
This challenge was thought up by Mark (@LanguageComeUp / YouTube) and basically involves you studying the language(s) you're learning for 40 hours over seven days.
That's it!
There's a slight variation that was introduced by Seabolt (@SeaboltSpeaks / YouTube), where you split the hours into 20 hours passive learning and 20 hours active learning, but in general, the challenge seems to be rather flexible, which is great for me, as I definitely want to focus on more than one language.
That being said, I am trying to put more time into one language over the others, as I would really like to see some concrete results from this week. So, I'm going to try and spend 20 hours of my study time next week on Spanish!
What do I plan to do?
Well, I've put together a plan in my massive language-learning spreadsheet that looks something like this:

This is entirely flexible and is based on what I'm doing at the moment (though with slightly less TV time, haha), so there's a lot of emphasis on Anki/textbooks, whereas I might find myself spending a bit more time on output-based activities. I've also weighted things heavily towards the weekend because 1) I'm working all week (decided not to take Easter Monday off) and 2) when I was planning, I was just trying to get the numbers to add up. Hopefully, I'll actually put in a lot of time at the beginning of the week too and that'll make Sunday a bit easier.
I'm going to be posting my regular daily (ish) updates on my log on the Language Learner's Forum, but I'm also hoping to post daily updates here, too.
So, for tomorrow, I've planned:
45 mins of reading Los juegos del hambre
Watch two episodes of Las chicas del cable (approx. 100 mins)
30 mins of studying Living Language Spanish L16
Anki reviews for all my languages (anywhere from 5-30 mins each)
Write a short piece for r/WriteStreakGerman (approx. 30 mins)
30 mins of studying Teach Yourself Complete Gaelic L7
20 mins of studying DLI Basic Arabic L3
This should take around 4h45m, though it could likely be longer (I've estimated 5-10 mins of Anki per language and some of those are definitely going to be higher). There are also a couple of things I'm considering adding – I use Reddit to practise my German writing and there are a couple of subreddits for practising Spanish writing/speaking, too; I've also been watching Crash Landing on You and Dreaming Back to the Qing Dynasty (梦回), so I'm likely to add an episode or two in there.
Also, while I'm working 07:00-15:30, I'm hoping to fit some passive listening in; I've been trying to work my way through the Discworld books in German, so I might listen to some more of Das Licht der Phantasie.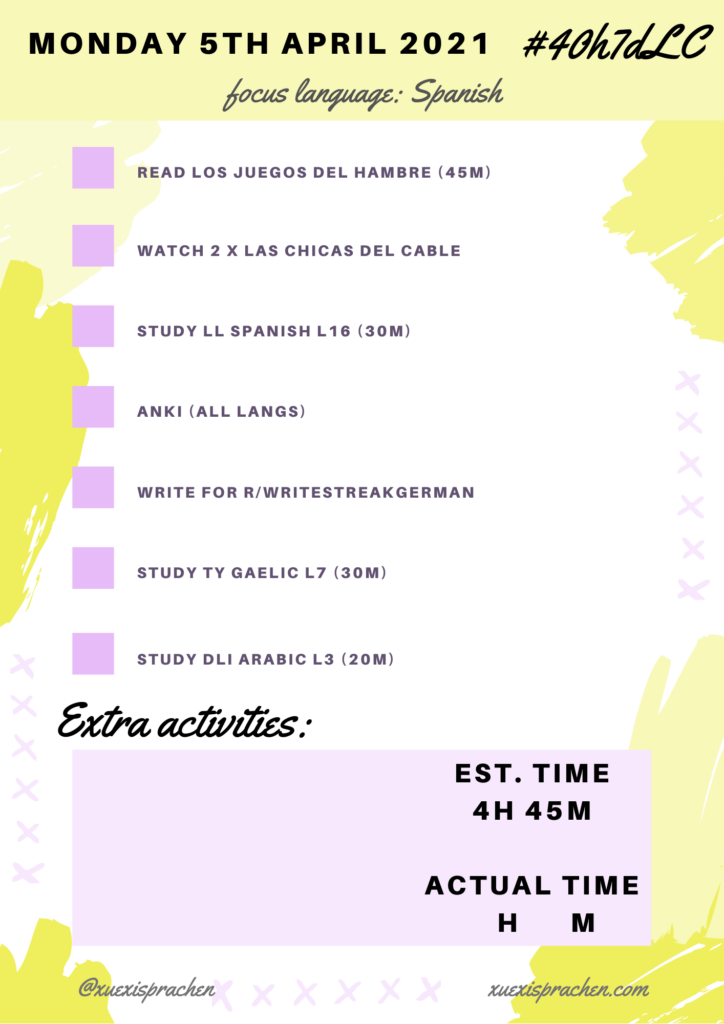 What resources am I using?
Books
Los juegos del hambre – Suzanne Collins (tr. Pilar Ramírez Pello)
Living Language Ultimate Spanish Beginner-Intermediate
Teach Yourself Complete Gaelic
DLI Arabic General Basic Course
TV / Films
Software / Websites
I think that's enough for a planning post! Only a few hours left until midnight for me… let me know if you're taking part in the challenge (most of us are hanging out on Twitter) – and good luck if so!
Psst – want to find out how I did? Check out my review of April's #40h7dLC here!