Yesterday might have been a busy one, but I think I got off to a pretty good start with the #40h7dLC. It's been great to see the enthusiasm everyone's had for this challenge and that's been reflected, I think, in what I got done.
So, first, the numbers:
Yesterday, I spent time with languages for six hours and 48 minutes.
Spanish is at the top by number of minutes (205), as it should be; then it's German (113), Arabic (41), Scottish Gaelic (34), Korean (11), and Mandarin (4).
I'm also currently at a 39%/61% split between passive and active learning, which is much better than the 50/50 I'd be happy with.
What did I do?
I had to work yesterday, so I started by listening to some of the audiobook Das Licht der Phantasie while I did. I also got some Anki reps in throughout the day, usually between other tasks.
After work, I went on a walk and re-listened to all the audio from DLI Arabic L1. Then later I was back to it all: I started working on Lesson 16 of Living Language Spanish, started working on Lesson 7 of Teach Yourself Complete Gaelic, did a bunch of Anki reps, wrote about ghosts for r/WriteStreakGerman, and read some more of Los juegos del hambre.
The fun part of today was seeing two of the words I'd just studied in my LL Spanish lesson pop up in Los juegos del hambre. Oh, and watching another two episodes of Las chicas del cable… things got dramatic!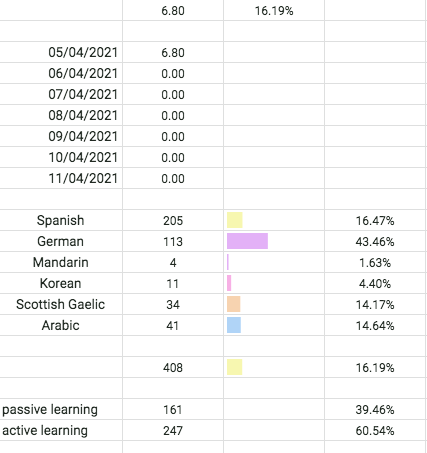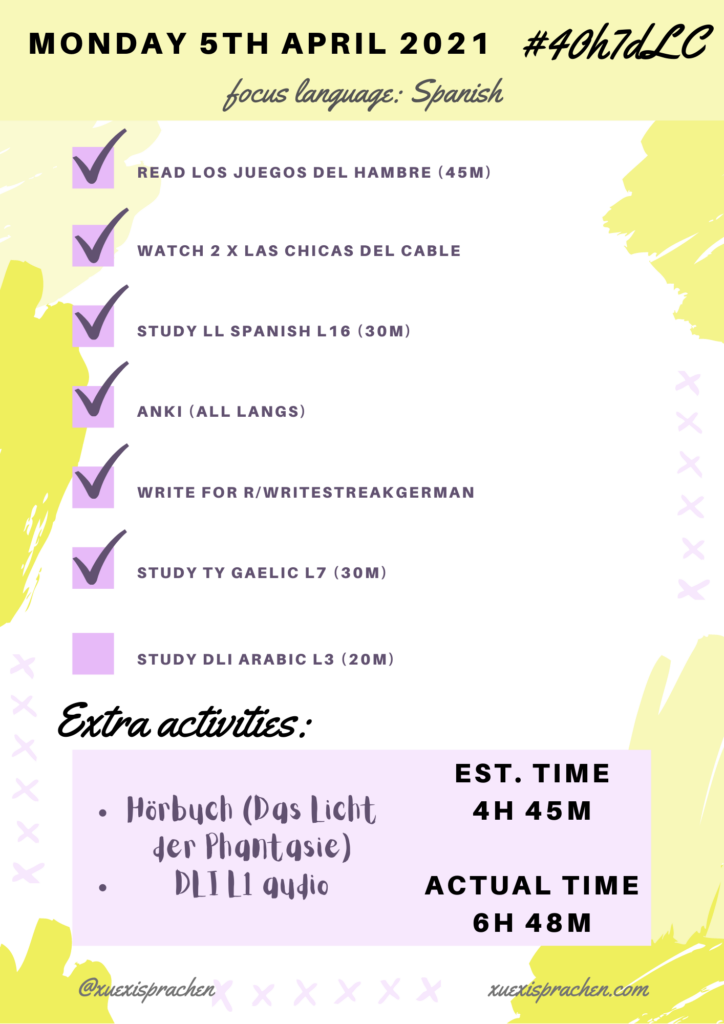 What are my plans for day two?
Honestly, they're very similar to yesterday's, except that my focus language should be Korean, so I've removed the 30m of studying Scottish Gaelic and replaced it with 30m studying Korean. I might even try and fit in another episode of Crash Landing on You.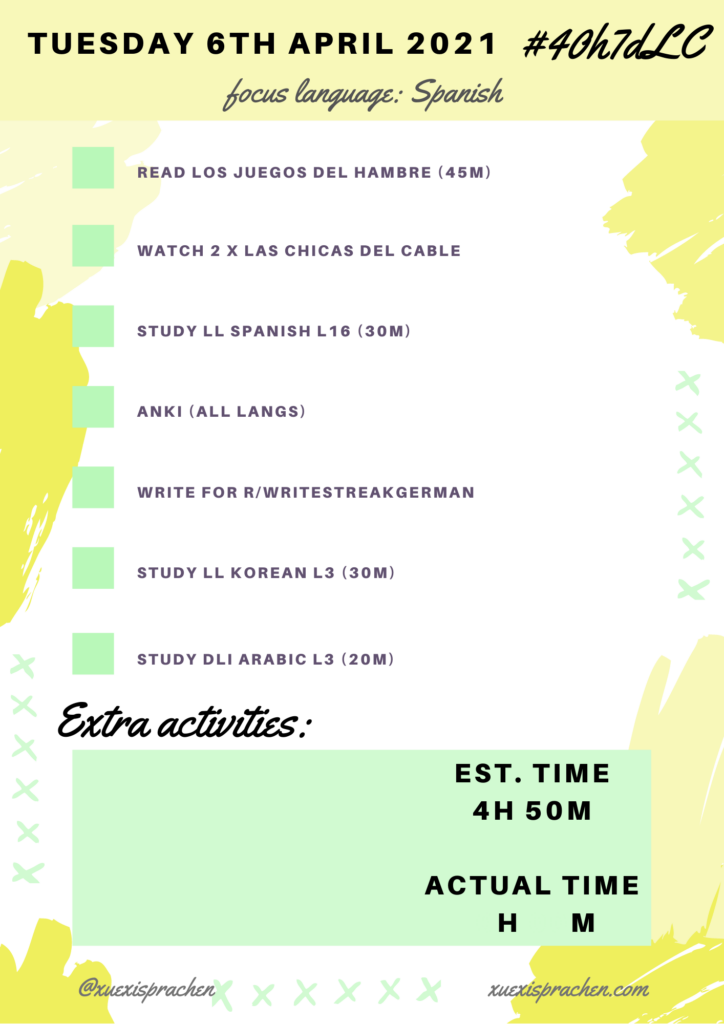 However, I am expecting that I'll get less done today than yesterday, as we've got some stuff going on this evening, so I'm not going to beat myself up over it if I do. After all, I fit in two hours over my estimate yesterday, so I'm already ahead!
Resources for today
Books
Los juegos del hambre – Suzanne Collins (tr. Pilar Ramírez Pello)
Living Language Ultimate Spanish Beginner-Intermediate
Living Language Korean, Complete Edition
DLI Arabic General Basic Course
TV / Films
Software / Websites
Here's to another good day of language learning!