What's up, everyone? So, yesterday was the second day of the #40h7dLC (if you don't know what that is, check out my first post here) and although I didn't manage to hit the same numbers as the first, I still did a pretty good job!
First, the numbers:
Yesterday's total time was four hours and 23 minutes, which means I've managed 11 hours and 11 minutes of study so far.
Spanish is still at the top (401 mins), followed by German (159), Arabic (44), Scottish Gaelic (38), Korean (22), and Mandarin (7). My split is still 39/61 between passive and active learning, so I'm properly on track there!
What did I do?
Well, I didn't really manage to get started until 9pm, so that wasn't exactly what I'd had in mind. It meant I had to cut out a couple of the tasks I'd wanted to do (mostly the sitting-with-a-textbook-and-studying because I was also kind of tired), but since I count my 'days' as being from when I wake to when I fall asleep, I wasn't super worried about trying to cram everything into those three hours.
Ultimately, I managed to do some Anki reviews for every language, my reading, and I wrote another post for r/WriteStreakGerman.
I also finished lesson 16 of Living Language Spanish, with a score on the final quiz of 80%, which is great. This means each lesson from the textbook is taking around an hour, though I like to split them across two days to give the vocab/grammar a chance to stick.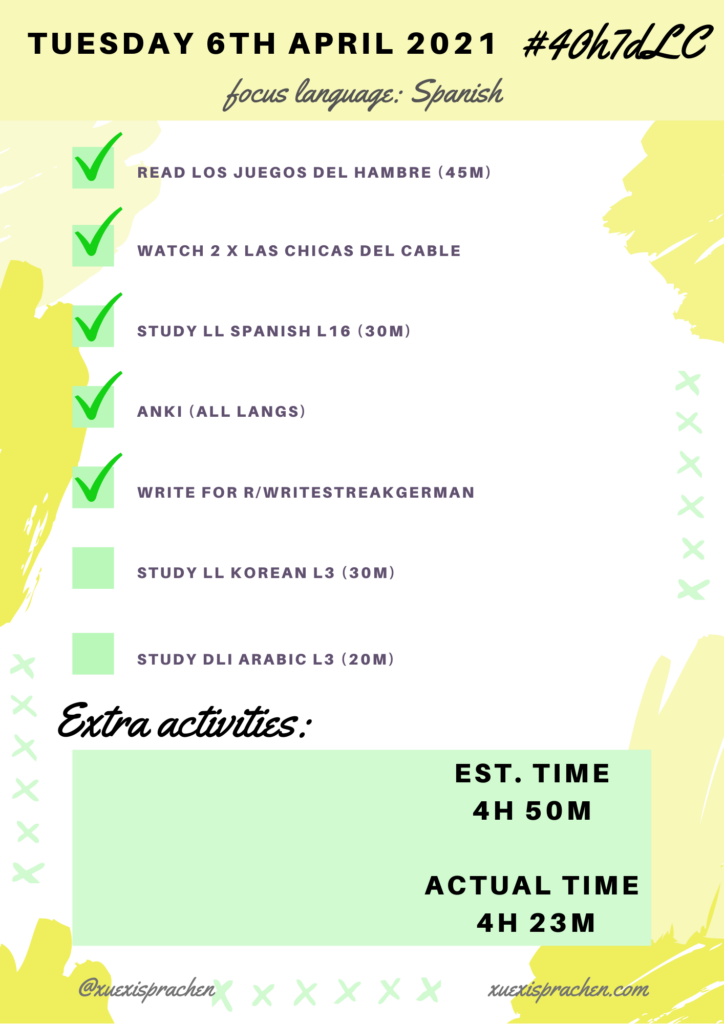 I did a combination of intensive and extensive reading with Los juegos del hambre – I took all the unknown words out of the first few paragraphs of chapter 17, looked them up and put them in my big Anki spreadsheet. I also matched up the sentences with the original text and put those in too. The point of my sentence flashcards isn't necessarily that I have a one-to-one comparison of meaning; just that I get more exposure to words and phrases.
Yesterday, I also watched another two episodes of Las chicas del cable, so episodes four and five. And if you've seen those two, then you might understand why this is my mood: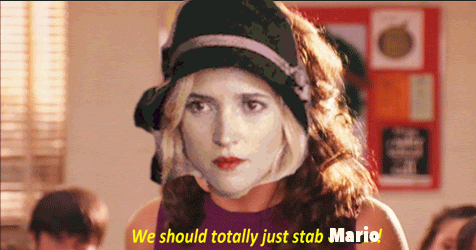 God, he's the worst.
But, aside from him, I'm still loving the show; the pacing on it is really good, so I'm only five episodes in and so much has happened already but I know there's still so far to go.
What are my plans for day three?
I did try and change things up today, based on my very rough initial plan, which means everything's ended up weighted very much towards listening. But, I think a mid-week break to watch and listen to things it what will keep me going through tomorrow/Friday – and then we're at the weekend, where I don't have to try and fit all of this around work!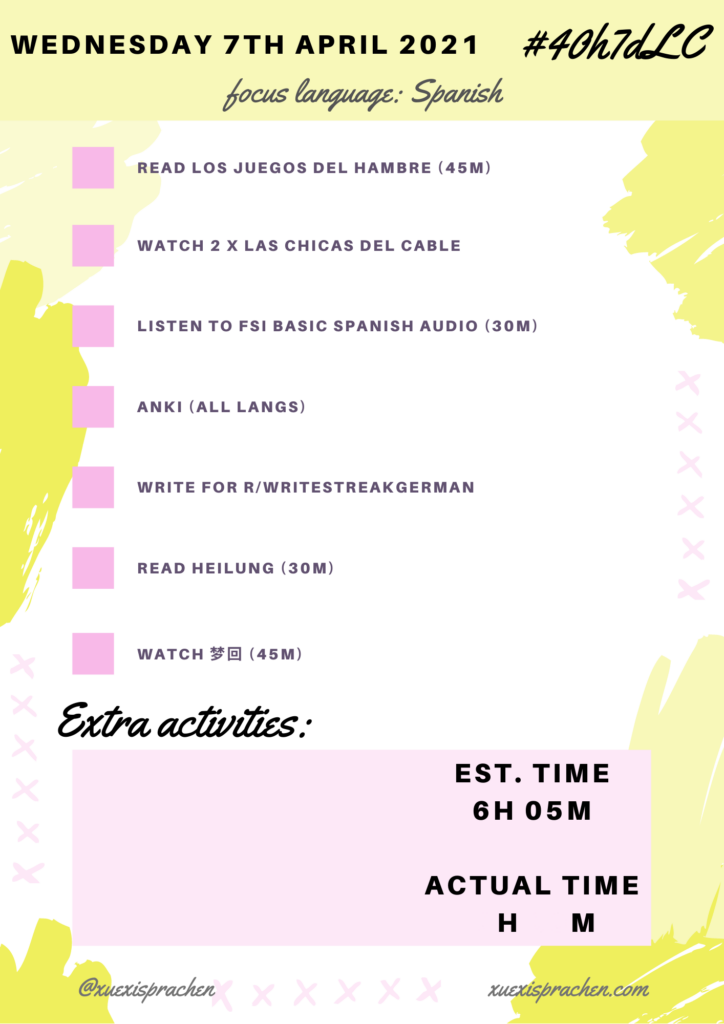 Today, I'm hoping to:
Read Los juegos del hambre for 45 minutes.
Watch two more episodes of Las chicas del cable.
Listen to the audio from FSI Basic Spanish for 30 minutes.
Do some Anki reviews/new cards for all languages.
Write a post for r/WriteStreakGerman.
Read Heilung for 30 minutes.
Watch one episode of 梦回 (should take around 45 minutes).
Resources for today
Books
Los juegos del hambre – Suzanne Collins (tr. Pilar Ramírez Pello)
Heilung – Sloane Kennedy (tr. Jutta Grobleben)
TV / Films
Software / Websites
Right, time to get back to studying! 加油!