Hi, all! We're onto the fourth day of this #40h7dLC, which means it's time for me to talk about what I got done on day three. Spoiler alert: it went pretty well and was a nice gentle day to break up my week.
First, the numbers:
Yesterday's total time was seven hours and 41 minutes, so I'm at 18 hours 52 minutes so far.
Time on each language has changed a little; there's still Spanish (687 mins) and German (254) at the top there, followed by Mandarin (70), Arabic (47), Scottish Gaelic (45), and Korean (29).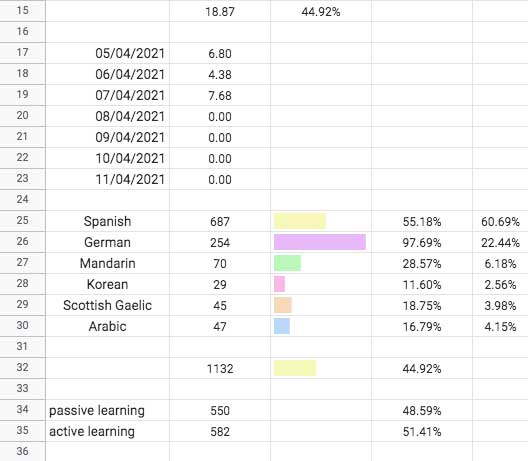 What did I do?
I actually started earlier in the day; I had the audiobook of Das Licht der Phantasie on for a bit in the morning, then after that I listened to some of Buenos Presagios. I also had a little play on LyricsTraining (Spanish) through the day, which was a lot of fun.
I also listened to the audio of FSI Basic Spanish, Unit Two, which has all the drills etc. on there. I'm not really working through the book; instead, I figure there's a lot more audio for FSI than for my Living Language course, so I might as well just go through that.
Did my Anki reviews, wrote my post for r/WriteStreakGerman, and then it was time for some TV watching!
I've been watching 梦回 (Dreaming Back to the Qing Dynasty) for Mandarin, which is another time-travelling romance that's a lot of fun. Except, this episode was less so – we're getting to the point of the Crown Prince's rebellion, so it was a lot of politics and a lot less Xiao Wei. But, I'm glad to have watched it because we should get a lot more drama in episode 13 (I hope!).
Then, I watched another two episodes of Las chicas del cable. It's still great; everything seems to be coming together as we go into the final episode of this season. I mean, Mario is the absolute worst still, but considering how many dramatic things happen every episode, I'm excited to see how it ends. And how season two starts, of course!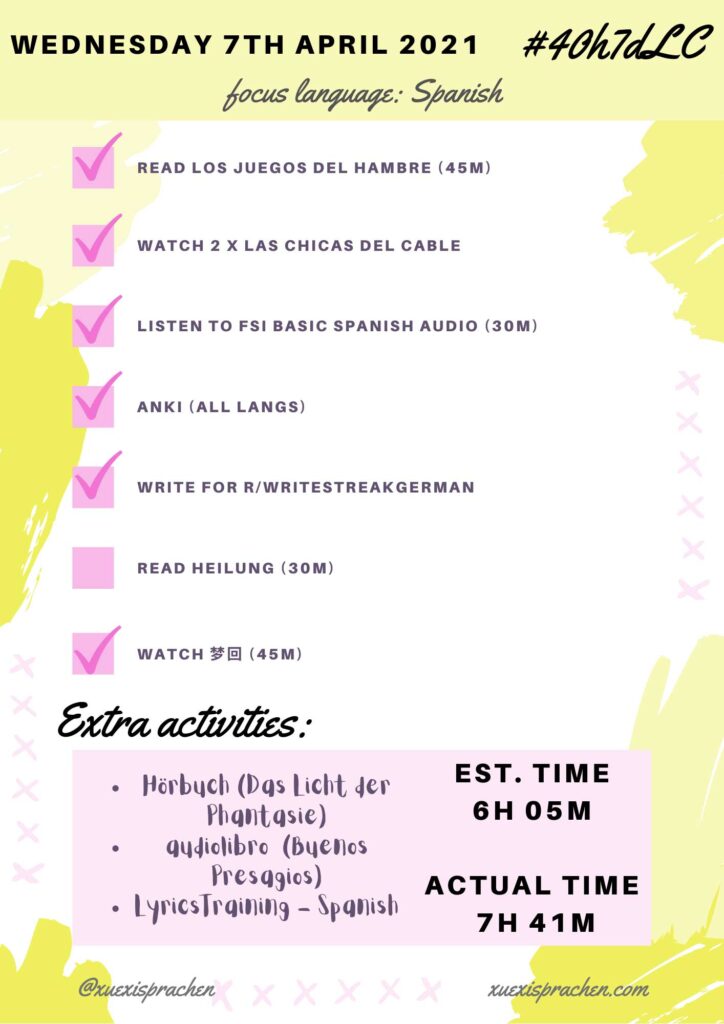 What are my plans for day four?
I was going to change things up a lot because I keep thinking of things I want to do, but there are also streaks I want to keep (reading, Anki, writing) and so it's difficult to cram extra tasks in there.
Still, I've definitely got to pivot my energy toward Korean/Scottish Gaelic/Arabic, as they're so far behind, so today's going to have a bit more of an Arabic focus at the bottom there.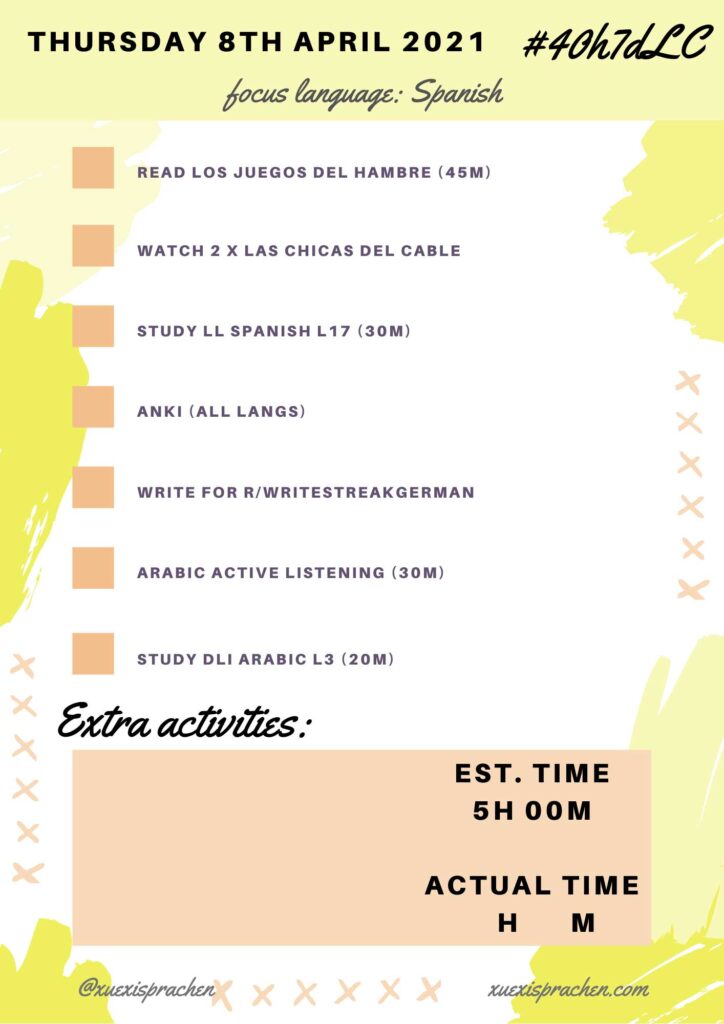 Today, I'm hoping to:
Read Los juegos del hambre for 45 minutes.
Watch two more episodes of Las chicas del cable.
Study Living Language Spanish (L17) for 30 minutes.
Do some Anki reviews/new cards for all languages.
Write a post for r/WriteStreakGerman.
Do some Arabic active listening (DLI audio, ArabicPod101) for 30 minutes.
Study DLI Arabic (L3) for 30 minutes.
Resources for today
Books
TV / Films
Software / Websites
Audio
How's everyone else doing, if you are taking part in #40h7dLC? Leave a comment or hmu on Twitter!