Today marks the halfway point of the 2020/2021 Super Challenge, which just happens to be my favourite challenge for language learning! It's 20 months long, so pretty hardcore, but a great way to take whichever language you're learning to the next level.
What is the Super Challenge?
It all began back in 2012 with a very simple premise: try and read 100 books and watch 100 films by the end of the next year. Originally, a 'book' was classified as 100 pages long, and a film as 90 minutes, but this proved to be an awful lot of work and now, every 50 pages counts as a new book.
The first Super Challenge also included a writing and speaking component, but that's changed now too. You also had the chance to declare yourself as doing a 'double' challenge or 'half' challenge, which is something that has been kept.
The current rules are simple – though there are always a few lingering questions:
Read 100 'books' (50 pages each, so 5,000 pages total)
Watch 100 'films' (90 mins each, so 9,000 mins (150 hours) total)
There are nuances, of course, as to what counts – though this mostly applies to the film component; you can read whatever you'd like – but the challenge is designed to be as straightforward as possible. After all, it's already hard enough as it is!
What's my track record with the Super Challenge?
I have never completed this challenge, not for any language. I'm not sure I've ever completed one part of it, though I know I came close with Mandarin films in 2019.
However, I know first-hand that reading and listening to a language are really useful activities to improve your language skill without you really paying that much attention to the whole thing. So, I rejoin it every year and this time I'm doing my best (now) to at least try and make it through my German reading and watching, even if I don't do well with the other languages.
So, how am I doing?
Well, I'm behind on literally everything, but I'm catching up fast.
As of today, I'm at:
German – 1,372/5,000 pages (1,132 behind); 3,013/9,000 minutes (1,494 behind).
Mandarin – 92/5,000 pages (2,412 behind); 499/9,000 minutes (4,008 behind).
Spanish – 887/5,000 pages (1,617 behind); 2,300/9,000 minutes (2,207 behind).

I also signed up for two half challenges in Korean and Scottish Gaelic, even though I knew I was being incredibly optimistic:
Korean – 0/2,500 pages (1,252 behind); 197/4,500 minutes (2,057 behind).
Scottish Gaelic – 12/2,500 pages (1,240 behind); 0/4,500 minutes (2,254 behind).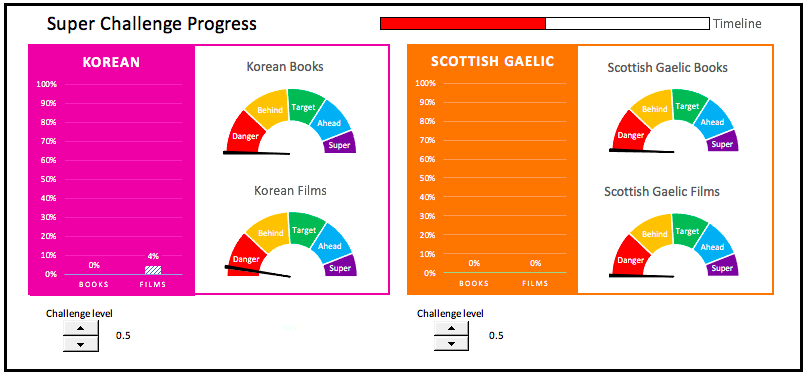 So, uh, it's not looking great, but I'm pretty sure I'll get there with German, maybe with Spanish – and I can manage the films for Mandarin and Korean, even if the books are tricky. My level of Scottish Gaelic is still so low (and there's a definite dearth of materials for it) that I have no illusions about finishing it here, but it's still nice to have it up there.
What have I read/watched?
Here's a list for you!
Reading:
Das Licht der Phantasie – Terry Pratchett
Death Note vol. 4 – Tsugumi Ohba
Der Kastanienmann – Søren Sveistrup [DNF (but plan to)]
Das Erbe des Zauberers – Terry Pratchett [in progress]
Addicted to Ridge – Drucie Anne Taylor
Absolution – Sloane Kennedy
Percy Jackson: Dieb im Olymp – Rick Riordan [in progress]
Ein Gutes Omen – Terry Pratchett and Neil Gaiman [in progress]
Heilung – Sloane Kennedy [in progress]
Die Bücherdiebin – Markus Zusak [in progress]
Weihnachtslied – Charles Dickens [DNF]
stern Crime [a couple of different issues]
Artemis Fowl – Eoin Colfer [DNF]
Fullmetal Alchemist C.01-06 – Hiromu Arakawa
Sailor Moon C.01 – Naoko Takeuchi
Un día en Horrorlandia – R.L.Stine [DNF]
El ladròn del rayo – Rick Riordan [in progress]
Blood Bank – slib
Los juegos del hambre – Suzanne Collins [in progress]
Attack on Titan C.01-03 – Hajime Isayama
Mandarin – assorted Rainbow Bridge graded readers
A bheil mi beag? – Philipp Winterberg
A-steach an seo, a-mach an sin – Philipp Winterberg
Watching/Listening:
Bob's Burgers
Austrian True Crime Duo (podcast)
Avatar – Der Herr der Elemente
Killing Eve
Dark
Gronkh (YouTube)
Frasier
Trek am Dienstag (podcast)
Eurovision Song Contest: The Story of Fire Saga
Batman Begins
The Dark Knight
The Dark Knight Rises
I, Robot
Inception
X-Men Origins: Wolverine
Wolverine: Weg des Kriegers
Logan: The Wolverine
Der Hobbit: Eine unerwartete Reise
Harry Potter y la piedra filosofal (audiobook)
Community
La casa de papel
Star Trek TOS
The Office
Como si fuera cierto
Chicas pesadas
The King: Eternal Monarch
Kingdom
Huh, when I write it out like that, it's definitely a lot – though if I cut a little more English entertainment out, I'll definitely power through more!
As for the rest of the year…
I'm going to work hard on this challenge. In fact, one of my goals for March is to watch German films until I've caught up and then switch to Spanish.
Reading is definitely going to be more difficult because it just takes so much time, but I know that I can also definitely manage that for German. Spanish might eke over the line; the others won't make it, I don't think, but that doesn't mean I won't try!
If you're taking part in the Super Challenge, let me know how you're doing! If you're not, feel free to join up – you can always sign up for a half challenge and you'll be at the same point the rest of us should be.
Good luck with your language learning!